COOKING UP CAREERS
Temple High School program prepares students for culinary schools and careers in the food industry.
Temple High School's 400 culinary arts students get hands-on experience in large "kitchen" classrooms outfitted with restaurant-quality appliances and equipment. Culinary Arts program instructor Margaret Fyffe (right) gives onion dicing tips to senior Nahum Rivas on Friday at Temple High School. The onions were being used to prepare a meatloaf for a catering event during the lunch hour. Rivas, who is a cook at Cotton Patch Cafe, is a fourth-year culinary student who is considering a professional career in the food industry.
Joseph Bates is learning how to cook. The Temple High senior plans to continue his education after graduation, but he isn't sure which direction he is going to go. But one thing is for sure: He's going to eat.
"Whatever I decide to do, I'm going to have to eat," Joseph said. "I figure I better learn to cook."
To accomplish that goal, he and about 400 other Temple High School students are participating in the school's culinary arts program. Many are planning on attending culinary schools in the future and some are undecided but leaving their options open, but all realize cooking is an important life skill.
"Students begin their culinary studies as freshmen," said Margaret Fyffe, program director. "We have about 18 seniors, and when they graduate they will be certified as a ServSafe Manager."
This certification enables students to oversee various aspects of the restaurant industry. It verifies that a person has sufficient food-safety knowledge to protect the public against contracting food-borne illnesses.
A ServSafe Manager certification better positions a person for leadership roles in the restaurant and food industries.
In addition to learning about measurements, kitchen safety and sanitation, students get hands-on experience in large "kitchen" classrooms. These kitchens are outfitted with restaurant-quality appliances and equipment, and the students often create meals for teachers, the public and for a class catering business.
On Friday, the 9:20 class was preparing a meal for about 20 local builders. Students were assigned to stations, each doing their part to make the meal a reality.
"Today we're making meatloaf, mashed potatoes, green beans, rolls, tea and banana pudding," Fyffe said and she shuffled her attention from station to station.
Fyffe — an Indiana University grad with a degree in family consumer science — said many of her students have expressed a desire to work in the food industry. At Temple High, they learn basic skills — and some not so basic — they will need to continue their education or go straight into a restaurant job.
The culinary instructor has been with Temple ISD for about 15 years and has seen interest in the culinary arts program rise like a loaf of sourdough bread.
"It's phenomenal," she said. "We used to be a little classroom. It was like a home economics room with little kitchens and little tables."
Because of the tight space, students were not able to operate in a professional kitchen environment. Now, kitchen classrooms also are equipped with video equipment, monitors and microphones, allowing Fyffe to reach all students regardless of where they are working.
The "learning kitchens" also allow Fyffe and her students to operate their catering business.
"We're doing catering events regularly — one every two weeks or so," Fyffe said. "We're always preparing for future events. We've catered for the public, teacher lunches and other events."
She said students once catered to 800 people for a single event.
In addition to catering, program participants also have the opportunity to work at The Blue Plate, a student-run restaurant located adjacent to the classrooms.
On the second Tuesday of each month, students take reservations for a full-service meal in The Blue Plate. The cafe seats about 28 people, Fyffe said. The program also operates The Blue Cup, a smaller facility that specializes in desserts.
"The Blue Cup serves coffee products (to adults), banana nut bread, chocolate cakes, cookies — a variety of desserts," she said.
Fyffe believes the program's growth can be attributed to the high school's Career and Technical Education facility on campus. The $32 million, 113,000-square-foot facility opened in 2018 and houses vocational and certification programs in fields such as plant and animal sciences, veterinarian sciences, hospitality and tourism, cosmetology, construction skills, automotive technology, automotive paint and body, digital arts and communications, law enforcement and health sciences.
"Everything that we do across all CTE programs is to prepare students for the workforce," said Denise Ayres, director of Career and Technical Education at THS. "That could mean entering the workforce immediately after high school or continuing on to college."
Ashley Rodriguez fills Mason jars with homemade banana pudding to serve during a catered luncheon Friday. Rodriguez plans on attending culinary school after graduation and eventually opening a small cafe and bakery.
Kaleb Hill and Joseph Bates, both seniors, are preparing potatoes for a dish that to be served at a Friday catering event. Hill plans to attend Tarleton State to study psychology. Bates also plans to attend college, but right now he is focusing on improving his cooking skills.
Temple High senior Ariana Boian is preparing a dough to make rolls Friday during her culinary arts class. Ariana plans on continuing her education at Temple College for two years before attending Mary Hardin-Baylor. She is considering a career in either criminal justice or as a chef. "I really haven't decided yet," she said. "But I'm having fun in this program."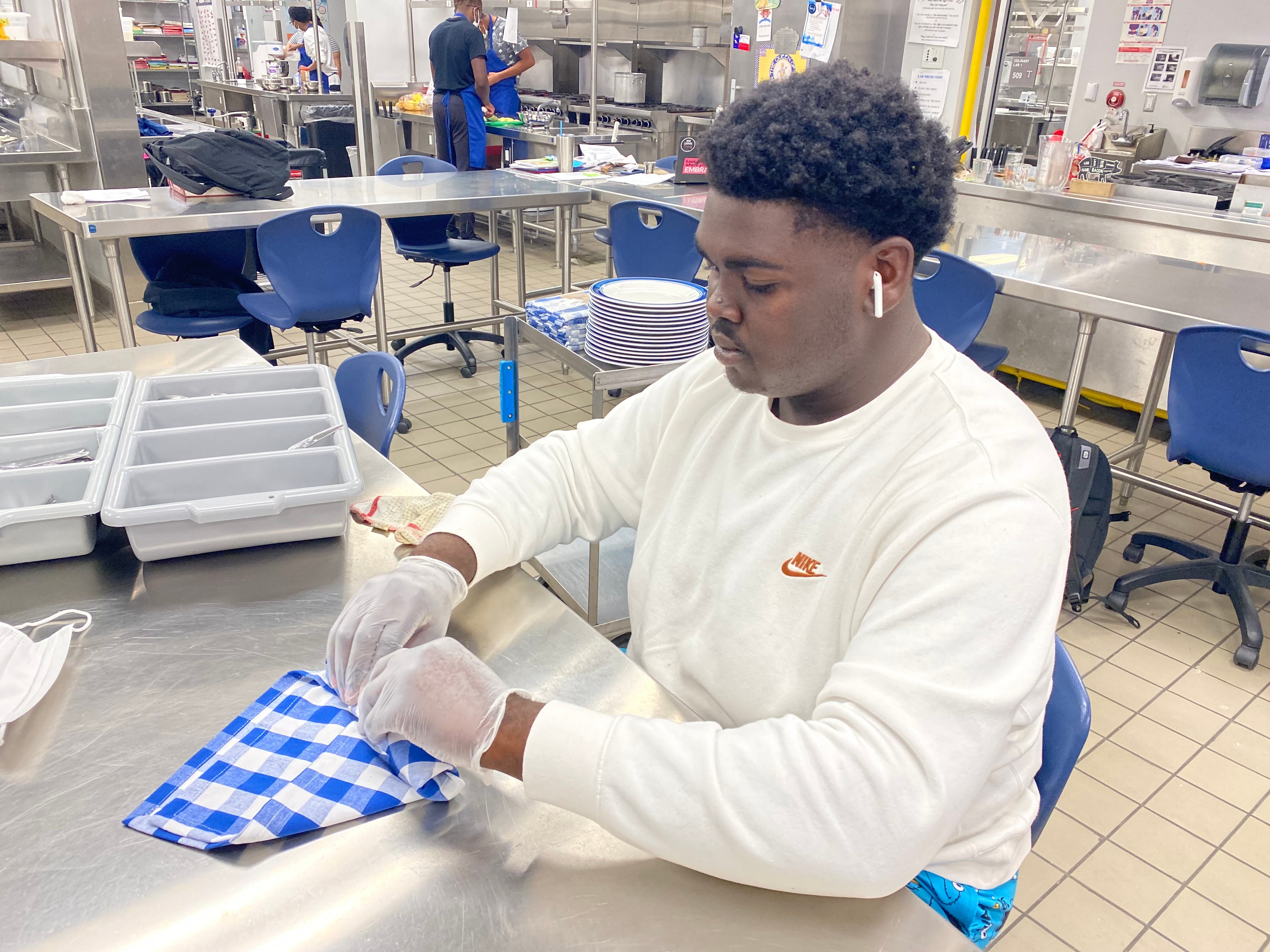 "This is my specialty," joked Jaquial Smith as he rolled eating utensils in cloth napkins to be used at a catered luncheon. Smith, a four-year participant in the THS program, is planning a career in dance or culinary arts.
BY DAVID STONE | OUR TOWN TEMPLE